LA COUR
CINÉMA EL HILAL, MÉDINA COURA, BAMAKO, MALI, DECEMBER 2, 2017 – JANUARY 31, 2018
11ES RENCONTRES DE BAMAKO – BIENNALE AFRICAINE DE LA PHOTOGRAPHIE
Une installation photographique collaborative de / A collaborative photographic installation by
François-Xavier Gbré, Yo-Yo Gonthier, Nii Obodai, Kal Touré
LA COUR / THE COURTYARD – download PDF
Un cinéma, lieu de tous les possibles, de tous les imaginaires, une fenêtre ouverte sur le monde.
Dans un contexte politico-militaire particulièrement difficile depuis 2012, quelles projections pour la jeunesse malienne ? Que sont devenus les rêves d'hier ? Écorchés, décrépis, comme les murs sur lesquels nous intervenons. Nous sommes ici réunis autour d'une proposition collective, questionnant la liberté d'expression, l'histoire, l'art et le politique. Dans La cour du Cinéma de Medina Coura, cette installation photographique in situ propose un cadre à la discussion, pour interroger encore, penser et espérer.
Contraints par un monde rapide, fait de rapports de force et de domination, d'isolement et de frontières, nous cherchons ici la résonnance d'une pensée commune. Par ce geste collaboratif, nous empruntons des chemins de traverse, de nouvelles manières de voir et de regarder, de réfléchir la société dans laquelle nous vivons.
À Bamako où nous nous sommes rencontrés, nous revenons partager nos expériences, concernés et conscients, malgré les diffcultés d'exister, de la nécessité de nous écouter, de discuter, de travailler ensemble, ici et maintenant, dans La cour.
François-Xavier Gbré et Yo-Yo Gonthier
A movie theater, a place where anything is possible and imagination is on the loose; an open window to the world.
The local political and military setting has been particularly tough since 2012. How can the youth of Mali project itself into the future? What has become of yesterday's dreams? As skinned and decrepit as the walls we intervene on. Here we are, gathered around a collective proposal, questioning freedom of expression, history, art and politics. In The courtyard of Medina Coura Cinema, this in situ photographic installation offers a framework for discussing, renewed questioning, thinking and hoping.
Compelled by a fast-moving world, driven by power, domination, isolation and borders, we are here see- king echoes of a common thought. Through this collaborative endeavor, we are following side roads, new ways of seeing and looking, reflecting the society we live in.
Notwithstanding existential hardships, we return to Bamako where we met to share our experiences, worried and aware of the need to listen to each other, to discuss, to work together, here and now in The court yard.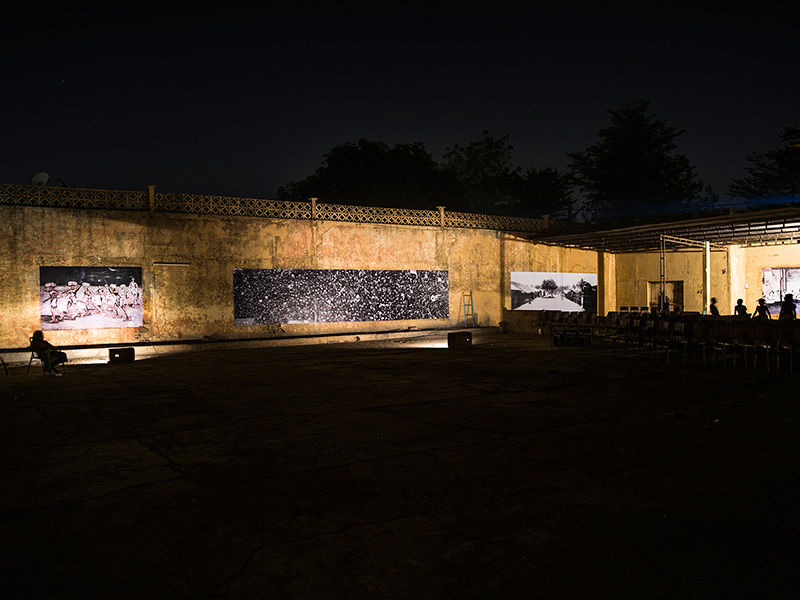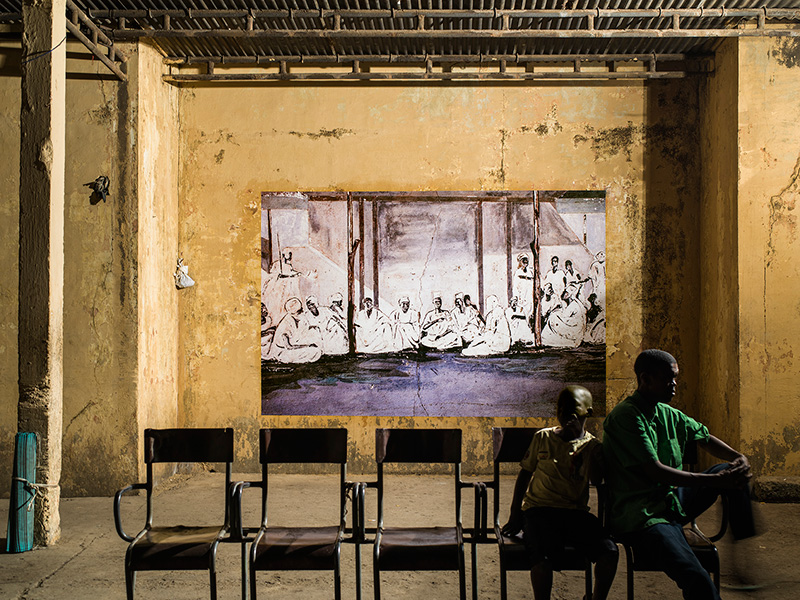 Cour d'Ahmadou Sékou (1776-1844), fondateur de l'Empire Peul du Macina, Koulouba, Bamako, Mali
2015, Mali Militari series © François-Xavier Gbré
Exhibition view at Cinema El Hilal, Medina Coura, Bamako, Mali, 2017 © François-Xavier Gbré